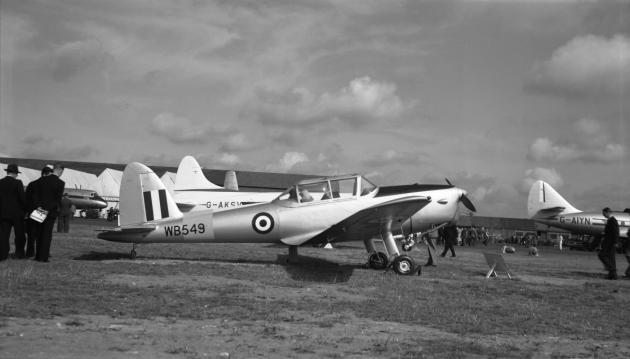 The Chipmunk was designed as the successor to the Tiger Moth as an ab-initio military training machine.  Designed at deHavilland's Canadian subsidiary by Wsiewolod Jakimiuk, who had worked on the dh98 Mosquito, the DHC-1 shares the distinctive shape of the Mosquito's fin and rudder, a marked departure from the pre-War Moth series of aircraft.  Powered by an improved version of the Gipsy Major engine that powered the Tiger Moth, the Chipmunk is of all-metal construction and is equipped with a tailwheel and brakes, making it more straightforward to taxi and more capable during crosswind take-offs and landings than its predecessor.

As a trainer, the Chipmunk's tandem seating and lively controls made it an effective preparation for the exotic military hardware onto which its students would progress, while its fine handling made the 'Chippie' universally popular with its pilots.  Replaced by the Bulldog as a trainer with the RAF University Air Squadrons during the 1970s, the Chipmunk continued to provide air cadets with air experience flying until 1996; if the Chipmunk has left an enduring legacy, it must be the affection in which so many teenagers now in late middle age hold the memory of their introduction to aviation.

Operationally, the RAF employed the Chipmunk on internal security patrols during the Cyprus Crisis in 1958/9.  Chipmunks also maintained the RAF's presence in Berlin throughout that city's period as a divided city until 1990.  Throughout the Cold War, the Chipmunk's war role was to provide communications as part of Military Aid to Civil Authority in the aftermath of a nuclear exchange.  The RAF still uses 2 Chipmunks to prepare its pilots for the Battle of Britain Memorial Flight's Hurricanes and Spitfires.

WB549 is a very special Chipmunk indeed.  First flown on 26 August 1949, it was the first Chipmunk built in the UK and displayed at the September 1949 Farnborough Airshow.  Used as a development aeroplane, '549 never entered service with the RAF, serving with the Empire Test Pilots' School between 1951 and 1970.  Subsequently purchased by the Managing Director of Hawker Siddeley's Hatfield / Chester Division (the successor company to deHavilland), it was civilianised by Hawker Siddeley apprentices and appeared on the civil register as G-BAPB in 1973.

After many years in storage, '549 has been restored to airworthiness, joining the Finest Hour fleet at Bicester Heritage in her immaculate authentic 1950s colour scheme during Summer 2019.  To book your flight in her, click here.