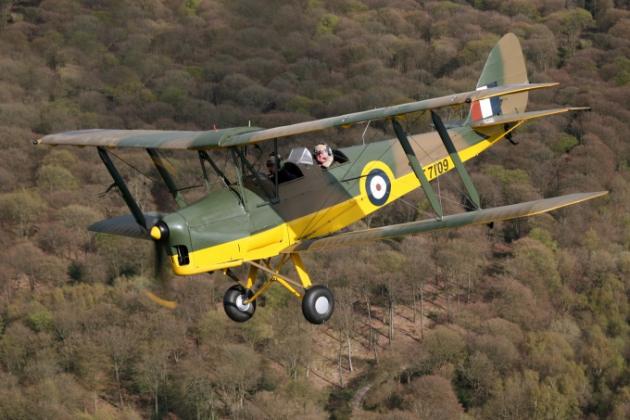 T7109 was one of the first of over 3000 Tiger Moths produced by Morris Motors at Cowley, Oxford
With war approaching, it was decided that de Havilland's Hatfield factory was to concentrate on production of the versatile Mosquito fighter bomber and that Tiger Moth production would be transferred to Morris Motors' car factory at Cowley, Oxford.  T7109 was one of the first Tiger Moths produced at Cowley, using components supplied from Hatfield by de Havilland, and first flew in June 1940.  After a period in storage at RAF Llandow, in May 1941 the Aeroplane was transferred to RAF Sealand, where it trained pilots with Nos 19 & 24 Elementary Flying Training Schools for the remainder of the War.  After nearly 7 years in storage at RAF Cosford, T7109 was issued to nearby RAF Honiley in April 1952, returning to storage, this time at RAF Lyneham 6 months later.  Between May 1953 and July 1954, she served with the Station Flight at RAF Eindhoven, before returning to the UK for sale to the civilian market.
Now registered as G-AOIM, the Aeroplane was operated by Warwickshire Flying Club from what is now Birmingham Airport between 1957 and 1961.  Thereafter, she passed through the hands of several owners before entering another lengthy period of storage in the late 1990s.  After a number of false starts at restoration, 'IM was restored to airworthiness by Touchdown Engineering Ltd and delivered to her new home at Bicester Heritage by Chris and 'Tommy' Thompson on 21 April 2016.  The Aeroplane sports her original 1940 colour scheme, providing a visible representation of Oxfordshire's contribution to the War effort.